The Rise In Podcast Popularity
Podcasts have been on the scene for more than two decades, but it's only been in the past five years that we've seen them grow in such immense popularity. Add to that when the entire world shut down in 2020 and we saw an increase in podcast shows launching. How big of an increase? Well, in 2022 there were 219,178 new podcasts, but in 2020…there was a total of 1,019,272 new shows brought into the world! (PC Magazine, 2023)! That number is mind-blowing! Spotify boasts having 5 million podcasts on their platform and they're the largest listening platform followed by Apple Podcasts. (Demand Sage, 2023) Now saying there are that many podcasts, doesn't necessarily mean they're all active…have released a new episode in the last 30 days. Rest assured, there are still well over 1 million active podcasts.
I'm offering you these stats to demonstrate that there is a large number of shows for you to be interviewed on. There is no shortage of podcasts and research is showing that the industry is predicted to continue growth…from being a $2B industry in 2023 to $4B in 2024. Podcasting is here to stay!
Can All Authors Utilize Podcast Interviews?
The question then for authors is how can you utilize podcasts to help market your book? I'm so glad you asked! 
Oftentimes, I hear that if you've written nonfiction or a memoir, then landing podcast interviews are easier than if you're a novelist. The thinking behind this is because you're able to talk about what's in your book or highlights of your life that are included in the book. While this is true, a novelist can also talk about what their book is about, along with their writing journey, their background and much more. 
Podcast interviews are so much more than staying in a single lane. 
I've worked with authors of memoirs, nonfiction, and novels. I've also interviewed them on my podcast. The key is in getting to know the author, as well as the book. You can create speaking topics around the book but they should also include areas of your life as an author. People want to know about you. Did you wake up as a child and know you'd be a writer and that was how it simply happened? Most likely not, so what did that journey look like? What was your journey to becoming published? How did you decide on the story or focus of your book?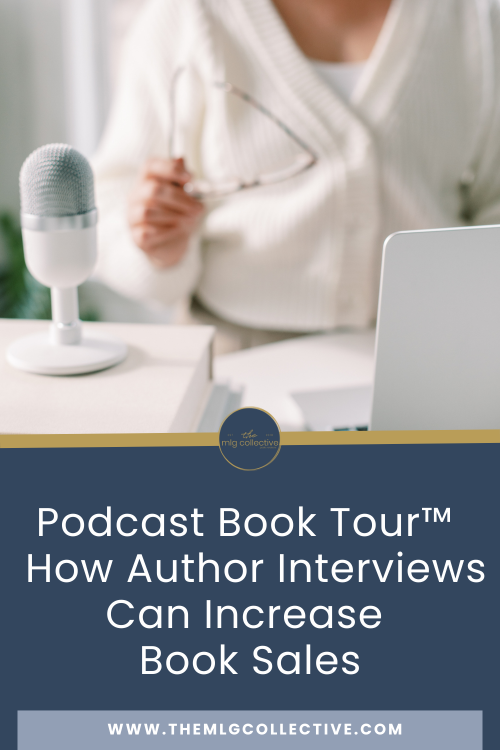 What Is A Podcast Book Tour™?
A Podcast Book Tour™ is just like a book tour but solely focused on podcasts. When the pandemic hit, I saw authors having to cancel their book tours because they were all in-person. It was devastating to see. What could be an alternative for authors to get their books out into the world while not being in bookstores or at book launches? Podcast interviews! I launched the service of a Podcast Book Tour™ to help authors reach a larger audience while recording from their homes. The beauty of podcasts is that you can record multiple interviews in a day and reach a greater audience than if you were flying around the country attending book signings. Not only that, but you can and should repurpose the interviews on your own platforms so that they'll live on for eternity!
Podcast Book Tour™ & The MLG Collective®
A Podcast Book Tour™ can start prior to your book launch, when your book launches or even years after it's launched. The choice is yours because the thing is, you want your book to reach audiences and sell, no matter when the date is. Yes, it's great to have pre-sales and to hit bestseller lists at the beginning, but you can always sell your book after it's launched. You can also resurrect books that didn't get the attention they deserved. It's always a good time to land podcast interviews around your book! 
I want to share with you what it looks like to be an author and work with The MLG Collective® because it's different from what other publicists, book marketing agencies, and podcast booking agencies offer. The entire process of working with us is about 4 months, yet the results will last forever.
First, I read your book. I have written in every contract a specific time allotment that allows me to read your book cover to cover. This is something extremely important to me which is why it's included in our contracts and I commit time to reading your book. We are a relationship business and reading your book is something I will never skip over. I read your book prior to your onboarding call so that we can discuss it. You and I have a 1:1 zoom meeting to discuss your book, potential topics and you'll share your story. I ask you questions and write down a crazy amount of notes in order to create your unique speaking topics.
You provide me with your branding assets (fonts, branding colors, book cover image, headshot, etc) and I create your author media kit. Our author media kits include a one-page media kit (standard for all of our clients), along with a more in-depth kit for your book. I've worked with authors published traditionally, independently and self and thus far, the kit I provide is something they haven't been armed with before. If you'd like to see examples of what we create, send me an email! This is a part of your brand as an author and an asset to promoting yourself and your book.
The Podcast Pitching Process
We research podcasts based on your ideal reading audience. Every podcast host receives a unique and personalized pitch. Please read that sentence again…EVERY HOST. We don't believe in copy and paste and therefore, every email is different. We listen to every show, related to specific episodes and pitch you. We follow up on those pitches and communicate to you when a host would like to interview you. We provide them with your bio and headshot, provide you with the proper mic and info on what platform to show up to record on…all you need to do is show up to record! We also chase the podcast to find out when the interview goes live and ensure you receive social media assets, an embed link, transcript and much more!
Marketing Content That Lives On Forever
Just because the interview stopped recording, doesn't mean that your part (or ours) is over. We have two goals, to thank the host and to create greater marketing content based on your interview. One of the biggest mistakes I see podcasts guests make is in not sharing their interviews. How do you expect to land more interviews if it appears you haven't been on any shows simply because you don't share them? If a host knows you've been on other podcasts, yet you don't share any of your previous interviews, what benefit are you giving them by having you on? 
I mentioned before that this is a relationship business. Our agency is building relationships with clients and hosts. As a guest, you're building relationships with hosts and the audience. Posting about your interview in your Instagram stories for 24 hours isn't going to create a meaningful and lasting relationship. Creating graphics and posts, a blog post, pins and more is what's going to make you a guest that hosts will rave about.
Not sure where to start in repurposing your podcast interviews? Don't worry, we provide you with what we consider a pretty awesome guide on how to do it and even have a freebie on it for you! Don't waste an interview by not sharing it with your audience! 
Ready to chat about your upcoming book launch and if a Podcast Book Tour™ is right for you? Email Michelle or send us a DM on Instagram! 
Looking for some podcast pitching resources? We've got you covered!
How To Repurpose Your Podcast Interviews