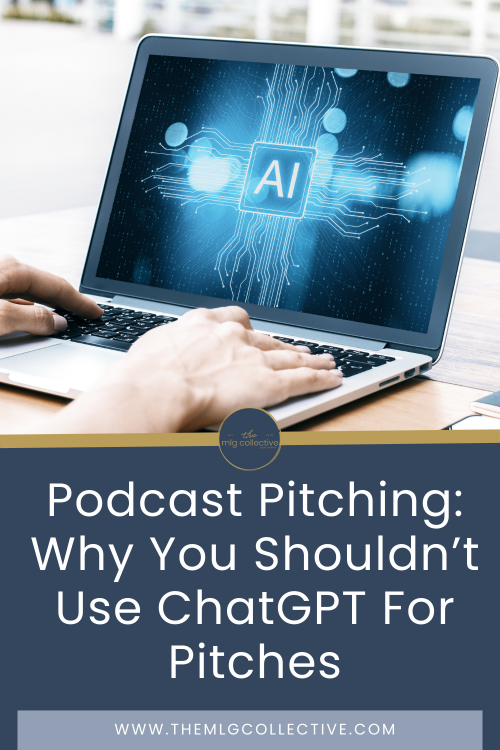 Artificial intelligence or AI is "all the rage" these days and causing quite a controversy. ChatGPT is the most popular AI app out there right now and I've seen it being used by podcast hosts, salespeople, marketers and most recently a competing podcast pitching agency. The latter is the reason I felt compelled to voice my opinion and share some facts and statistics with you on the topic of using ChatGPT for pitching.
My good friend and fellow publicist, the queen of Twitter, former podcast guest and MG, Michelle Garrett (she/her) wrote a fantastic article entitled "The Realities of Using ChatGPT to Write for You". In the article, Michelle outlines the real risks to utilizing ChatGPT. These risks include, legal, reputational, search/SEO, and lack of originality. I highly recommend you read Michelle's in-depth coverage on ChatGPT and how you put yourself at risk by utilizing it to write your content for you or for your clients. 
Three key legal issues that Michelle identifies through intellectual property attorney Ruth Carter (they/them) are that 1) AI software is often trained by scraping content from the internet, 2) AI is bad at correctly stating facts, and 3) If you've read the OpenAI terms, it says that there's no guarantee that it would not produce the same output for two different users.
Those three issues alone scream red flags to me (and to Michelle!). But that's not enough for a number of other people to utilize ChatGPT and other AI apps to do their work.
I Tested ChatGPT For A Podcast Pitch
Last week a LinkedIn post popped up in my feed and ignited the fire in me to not only write this post, but to edit my finished manuscript to include commentary on AI in it. The post came from a podcast booking agency competitor…yes, we're connected on LI. The post said that for the past 30 days, his agency was using ChatGPT to create speaking topics for clients, pitch them to podcasts, send thank you notes and find podcasts to pitch to. These are all tasks that my team and I do on a daily basis, but without the help of AI…see issues #1 and #2 above! The agency owner posted an entire 30 minute video on how his team used it and stated that he was impressed by the pitch ChatGPT generated. He actually said the ChatGPT pitch was better than 80% of the pitches he's seen. 
After seeing this, I decided I wanted to see for myself how it worked and what kind of content it would spit out at me. I've seen commentary that AI is only as good as the information you put in, therefore you should be as detailed as possible. *Make note that already means you have to do some work.
I entered "3rd person podcast pitch for Michelle Glogovac to the my simplified life podcast with the goal of Michelle being invited as a guest" as my request. I felt this was detailed enough since the app will scrape information on me, the podcast and knows I want to be pitched as a guest. 
Here's what I received as the answer: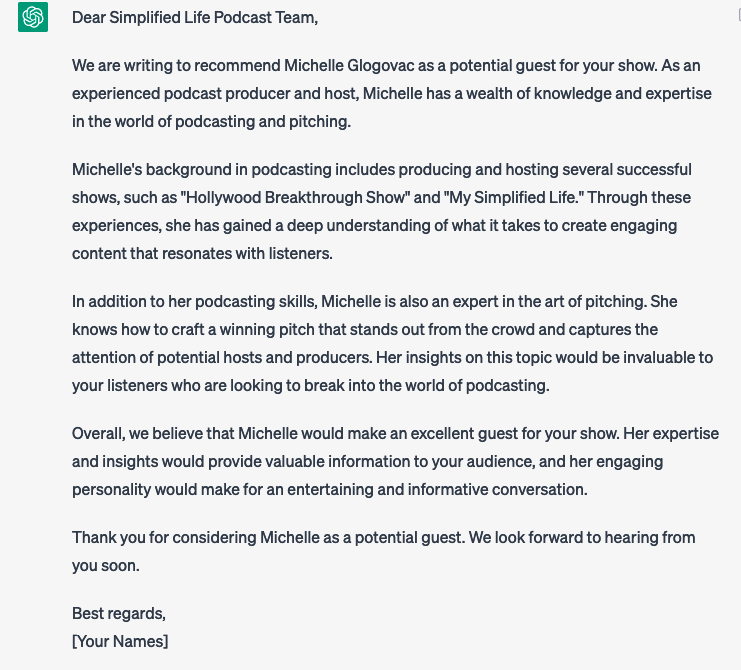 What's Wrong With The ChatGPT Generated Pitch
Let's start with the greeting alone…that isn't even the name of the podcast! 
If you've been listening to my podcast or reading my Instagram posts, then you know that my pitches are all personalized. We listen to every.single.podcast that we pitch to. We relate to specific episodes (and not just the most recent ones!) and we share of ourselves and clients. This pitch is generic to say the least.
Next, I'm not the host of the "Hollywood Breakthrough Show", nor have I produced it or been a guest on the show, therefore this is inaccurate information. I've only hosted my one and only show, My Simplified Life. The third paragraph is fine, but it confuses what I do with someone wanting to break into the world of podcasting. 
Lastly, all of my pitches include links. ChatGPT does not, therefore this pitch would never see the light of day in my agency. 
Since the pitch is inaccurate, it would also mean that further work would need to be done in order to correct it. How does AI save time if it requires more work on your part when it comes to a podcast pitch? 
The Podcast Industry Is Based On Relationships
The podcast industry, like most, is about relationships. My agency has built its foundation on relationships…with hosts, clients and everyone we come in contact with. Artificial intelligence isn't capable of creating relationships. It doesn't understand your personal life experience and is unable to compare it to a podcast's past episodes. My personal feeling is that using ChatGPT for your podcast pitch, thank you notes and to identify your speaking topics is lazy. The "convenience" factor lacks the personal touch that only a human can offer. 
My clients put their full trust in me. They pay me for a service in which I have promised them that every pitch is unique and personalized. My clients know that I have built my business based on my reputation and relationships over the years. Why would I want to jeopardize that for the sake of possibly saving a few minutes? I'm not even sure what time would be saved since my team and I would have to sift through the errors produced in the pitch, fix them, add links and more. 
In PR, as in any industry, professionals have standards, therefore, I don't do copy and paste. And I don't do AI. 
A note to mention, thanks to Michelle's article…this post was not written by a bot and ChatGPT was not used to write this post!