Let me share a secret with you…there IS such a thing as a perfect podcast guest. I know the saying, "no one is perfect," but that's not true when it comes to podcast guests. There are podcast guests who are so perfect that they're asked to be a return guest. That's a HUGE deal. 
Consider most podcasts release an episode once a week. That's 52 episodes a year and some might be all interviews while others could have a mix of interviews and solos (like My Simplified Life). There's no shortage of potential guests on any given topic, so to be invited on a show not just once but as a repeat guest…that means you're a pretty big deal. At least in my book you are, along with the host who's asked you to come back!
Being a perfect guest starts with knowing your topics and story. You know this already because they were a part of your pitch and what landed you the interview in the first place. The key was in how specific you were in the topic you pitched to the host. I tell clients that we want to be specific and unique…nothing generic like "How I Made 6 Figures". I find that utterly boring. People want to hear your story. It's great if you've made a ton of money but how did you do it? What's your secret sauce? What did your journey really look like? What obstacles did you overcome? What does success look like on the other side? How did you come up with the idea for the book you just launched? 
Only YOU know the answers to these questions and have the stories that go with them. Don't be afraid to share them. The best interviews are when the guest isn't afraid to share of themself. I've cried both as a host and a guest and I'm not ashamed to admit that. I don't hide who I am and that's what connects people.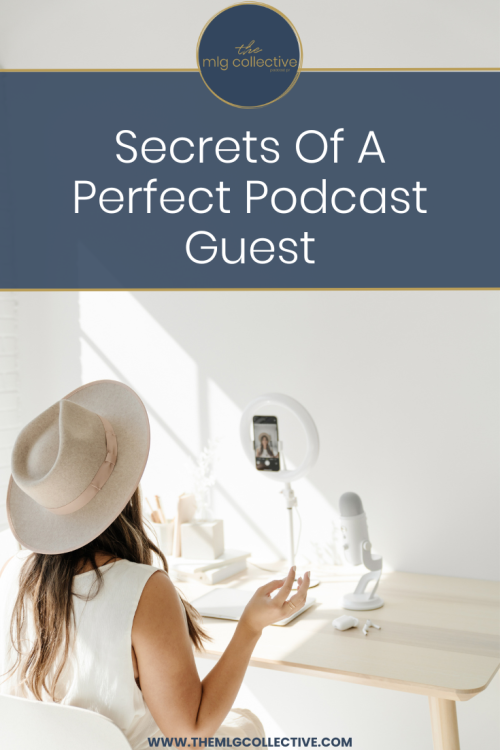 Before you jump on the interview, check out the host and show. If you've pitched yourself, this is something you should have already done, but it's always good to give yourself a refresher before the recording time. If you work with an agency like The MLG Collective®, then we provide you with links to the podcast, social media, the particular angle/episode we pitched and more. Do yourself a favor and click on them! Find out who you're talking to and what the host is like. 
I love allowing a conversation to flow naturally, but I think it's not only beneficial to know who you're talking to but showing that you've done some homework also shows the host that you care. I will never forget when the amazing Eve Rodsky showed up to an interview with me and started quoting one of my solo episodes. I was so appreciative that she had taken the time to listen to my show before coming on as a guest and to top it off…I had pitched her to be a guest on my show! 
It's the little things that count, so at least read the host's bio and show description (PLEASE listen to an episode!) and weave it into the conversation. It'll be greatly appreciated!
Your Tech Setup & Showing Up
A big part of being a perfect guest is showing up on time. Plain and simple…be on time, if not a minute or two early! We all know that things happen but you should make every possible effort to show up on time. 
When you hear the word "tech" you might get anxious. There's no need to! For your setup, I recommend you have a good microphone, headphones, webcam and a ring light. You don't have to go uber fancy or expensive at all. The key is to look and sound professional and by having these tech items, you certainly will! Below is a list of what I use. I gift all of my clients the TONOR USB microphone for their interviews. It's an easy setup and sounds great. If you use the Blue Yeti, please remember to speak on the side of the mic and not the top! 
Please, please, please wear headphones! This will help the host with their editing! 
One of keys in being asked back on a show is around how much of an effort you made to market your interview. It's literally the biggest and best way to thank a host for having you on. You should be creating marketing content from each of your podcast interviews. This is also called repurposing…you take one piece of content and create multiple pieces of content out of it. I have a handy guide on how you can repurpose your podcast interviews on the website! 
Posting it in your Instagram stories for 24 hours doesn't cut it by far. Not even close, my friend! Create static posts for social media, blog posts on your website, put it on your media page…allow it to live on the internet for eternity! This will maximize the exposure of your interview and also ensure your host is getting the downloads and proper thank you!
One of my favorite things to ask a host for is the embed link for the episode. You can copy and paste this onto your website with the blog post you're putting up for the interview. This creates the ultimate win-win for you and the host…the host gets the download and your website visitor never has to leave your site to listen to the episode! 
Follow these tips and I promise that you will become known as the perfect podcast guest!